...and get our FREE
7 part series
7 simple things you can do right now to take take 10 shots of your game.
Click here to get this amazing give away now and also pick up your FREE Demo of "From the ground up how to shoot in the 70'S".
Click Here to to get your FREE info.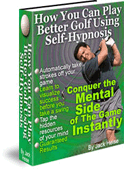 Review - The Golfcard.

Lets face it we are all on the lookout for ways to save money when it comes to our golf, that's why I recomend you take a look at the benefits of joining the Golfcard Scheme


40 Golf Card Member Guest Tournaments
A free copy of our Annual Directory
A personlized membership card
Access to our web site
Chances to test products
Discounts on Car Rental
Free copies of Golf Traveler member-only magazine
Free golf balls
Golf Card Vehicle and Homeowner's Insurance Plans
Golf Card Visa® Credit Card
Huge savings on golf at over 3,800 golf courses in North America
Membership in the Quest Hotel Program
Opportunities to meet fellow golfers and make new friends
Stay and Play discounts
Term Life Insurance
Toll-free access to our Member Service Team
You can see the complete details of all these offers and the Discounts at over 3800 courses, by Clicking Here.
I think the card is a wonderful idea and at the price it represents fantastic value for money, but only if you are a keen golfer who likes to travel to other Golf Courses, but if you are not then maybe this card will give you the excuse to start!

I would say not one to miss!

Malcolm
Click Here to contact me.
This review is © Bluebell Data and can not be reproduced in anyway without express permission.