Golfing Books

Here is a range of interesting golf books I have found, I hope to review them all over the coming months.

To keep up with golf book reviews and news, please join our mailer by clicking here.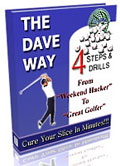 NEW! I come across The Dave Way a few days agon and already it has helped me and one of my friends cure his slice!
1) The Pro's Edge-Vision Training For Golf
Improve your putting, long & short game with these amazing techniques.

2) From The Ground Up:HowToShoot In The 70s
Revolutionary new golf method that works on the premise of teaching the key Elements in the proper order. Read review here

3) The Simple Golf Swing
eBook for a repeatable and Simple Golf Swing that provides power, accuracy and consistency.

4) Golf Swings - Downloads - eBooks - More
Video clips and swing instructions of Golf's Greatest Players and a lot more!

5) Lower Your Handicap By 30% Within Weeks.
Proven mental and strategic methods to lower your scores with current skills. Score your mental game and save golf balls.

6) Putting Trainer
Shave 5 strokes from your round.

7) The Golf Shrink
How to Win at Golf without Losing Your Mind.

8) Guide To Freelance Golf Caddying
All the information you need to start golf caddying for Amateurs and Pros.

9) Conquer The Mental Side Of Golf
There is no Hocus Pocus here. Learn to control your mind and control your game.